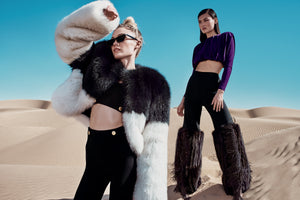 The natural fur online shop
Luxurious, sustainable and certified furs.
Visit our exclusive online natural fur shop to browse a curated selection of fine, unique, and
handmade creations from MANAKAS Furs. A piece for every occasion and style; add a
touch of contemporary glamour and elegance to your wardrobe.
Feel good in one of our creations, which would you pick?
Shop Now
Fur
Mink
A high-quality mink fur captivates with its unique texture and its radiantly elegant sheen. Thanks to our cooperation with renowned quality stamps, such as Kopenhagen Fur, we are able to offer you the best mink furs in the most exclusive colour shades such as the rare deep black.

Buy your real mink coat at MANAKAS and experience a luxurious and comfortable wearing.
Fur
Chinchilla
Chinchilla is considered one of the softest fur products and has a breathtaking coloring. Due to its hypoallergenic properties, chinchilla fur is very popular with allergy sufferers – it also caresses hypersensitive skin with its soft texture.
Choose a Chinchilla Fur Coat from our collection and enjoy an exclusive natural product.
Fur
Fox
Fox fur is one of the most popular fashion highlights on the catwalks of the world. Thanks to its plush texture, a fox fur coat gives its wearer the perfect combination of sensuality and glamour. MANAKAS' fox furs come from the Finnish auction house Saga Furs, which stands for a wide variety of furs from strictly regulated sources.
Fur
Sable
The MANAKAS sable skins are characterized by an above-average fineness. Our luxurious sable coats owe their design to our long-standing cooperation with the coveted Russian auctioneer SOJUZPUSHNINA, who is highly regarded on the international fur market.
If you want to buy a sable fur coat that guarantees quality and appreciation, MANAKAS is the right choice.
Fur
Swakara
The wonderful shimmer of Swakara fur is suitable for elegant creations and is guaranteed to make you stand out from the crowd on special occasions. You can buy your Swakara fur coat in exclusive, certified quality from us and convince yourself of the unique wearing comfort.
Get inspired; explore our unique selection of Persianer coats and shop your favorites.
Frankfurt
Manakas
MANAKAS Furs is synonymous with fine, high-quality products, that are made using the finest, natural, sustainable, and certified materials ensuring animal welfare and environmental standards. For over four generations, we have been shaping and influencing the fashion world with our exclusive designs, our attention to detail, and a high level of crafts skill that we put into making our unique Manakas garments.
Browse our gallery to find your own natural fur piece. Have a question for us? We would be happy to help.
Contact Us
Manakas Frankfurt prides itself on providing sustainable, certified, and luxurious fur garments. Our brand values focus on three pillars.